What's The Content Planner about?
The Content Planner is for anyone who publishes online. You might own an established business or be starting a new entrepreneurial venture. Maybe you're a creative entrepreneur – a writer, an artist, a musician – wanting to raise your profile and share your work with a wider audience. Or, perhaps, you aspire to share the things you love to establish yourself as an influencer. Whether you're working alone, as part of a small team, or within the communications department of a larger organization, you'll be able to make the most of limited content marketing time and leverage opportunities to generate sales and reap non-monetary benefits. Whatever your role and situation, this book will help you get your ideas online efficiently and effectively.
Places to Purchase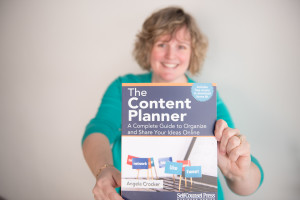 The Content Planner is available through many fine retailers around the world.
In Canada, try Black Bond Books, Staples, Indigo/Chapters,  Amazon.ca, Book Warehouse, Galiano Island Books, Munro's Books, and other retailers.
In the United States, visit Barnes & Noble, Amazon.com, or your favorite local bookseller.
In Australia, get your copy from Booktopia, Fishpond, and other book stores.
In the United Kingdom, order a copy from AbeBooks, Book Depository, WHSmith, Foyles, Amazon.co.uk and other retailers
The eBook edition is available on iBooks, Google Play, Kobo, Kindle, Nook and other e-book readers. An EPUB edition is also available.