The Digital Cleanse Day 11:
Get Over FOMO and Embrace JOMO
The fear of missing out (FOMO) grips many digital citizens. Are you afraid of what you'll miss if you're not online?  Are you compelled to read every status update on Facebook? Are you constantly on Snapchat to stay abreast of the latest gossip?  The compulsion to stay online may, in fact, disconnect you from the people, passions and projects that fuel your soul. Rather than worry about what you're missing online, I encourage you to embrace the joy of missing out (JOMO).
For me, the joy of missing out means I spend time with my family. Just this morning, I spent an hour with my son engaged in an epic battle of LEGO versus TinkerToy. When I'm offline, I connect with my grandmother. She's fast approaching 90 and has no interest in digital anything. We talk about flowers and clothes and world events and family history. Each conversation joyful in its own way. Perfect moments come when I can simply sit and hold my husband's hand. Just be. Who do you want to spend time with?
The joy of missing out also means I do more things I love. I write my best project outlines with sharpies and sticky notes. I love to go cycling, swimming and beach-combing. I doodle with fine art supplies and browse bookstores.  And so much more. What do you love to do?
While I do document lots of my life with Instagram photos, I often leave the camera alone.  Its very freeing to just enjoy the moment.  No need to freeze frame your kids in action to take a photo. Nor do you need to recreate those perfect moments. Just commit them to memory.  My dear friend, Moira Bridgman, gave me an amazing piece of advice for my wedding day. She told me "you won't remember what you saw but you will remember how you feel."  I've lived that truth as much as possible.
While undertaking a digital cleanse, I encourage you to plan time away from your technology. Spend time with the people you love. Do the things you enjoy.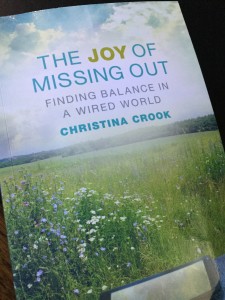 For a more academic look at JOMO, I highly recommend The Joy of Missing Out: Finding Balance in a Wired World. In her book, Christina Crook writes:
By understanding our online habits, we can form new ones – as we seek to be fully human in a smartphone world."
I'm looking forward to meeting Christina at Social Media Camp in May. As long as our sessions don't overlap, I plan to watch her presentation. With her permission, I will write more about her work.
More on the 30 day #digitalcleanse tomorrow. Hope to see you then!
(If you missed yesterday's installment, take a couple extra minutes to explore Pick a Cloud. For links to the complete Digital Cleanse series, click here.)