I'm a conference junkie. Yup, I have the habit of going to conferences. These events are a great opportunity for networking, learning and gaining some new perspectives. As much as I love conferences, I don't go to every conference out there. You've got to pick the events that relate to the work that you do or will be attended by your prospects and customers.
This week I'm preparing to go to Social Media Camp Victoria – a two day extravaganza of social networking experiences. I'm honored to be a speaker and am looking forward to learning from my fellow presenters including Jay Baer, Amber Naslund, Callan Rush, Sean Moffit, Rebecca Coleman and many others.
Given I could put "Conference Goer" on my resume, I've experimented with what to do and take. After lots of blisters, useless notes, dead batteries and some wicked headaches, I've figured out what works. Read on if you want a better conference experience:
A couple of weeks ahead, check how many business cards you have on hand. Plan to bring 250 cards with you. You won't use them all but it's better to have too many than too few. If your stock is low, order more now. Even if you don't have a business you still need a card. Simple black type on crisp white card stock is fine. You can order them from Staples or Office Depot or your local print shop for a quick turnaround. Having a card makes it easier for the people to find you again after the conference.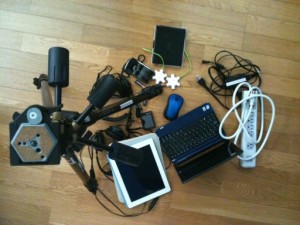 Make a packing list of all the computer technology you want to bring with you. Do you need your cel phone? A laptop / Netbook/ iPad? What about chargers? Peripherals like external speakers or a wireless mouse? What about microphones or headsets? Don't forget batteries and a power bar. The list should include the gear you want in your conference bag and the stuff you'll need in your hotel room.
Cameras are another biggie. Are you planning to take photos or shoot some video? Then decide which cameras to pack. Is a simple point & shoot enough or do you need a digital SLR? Are you shooting video on your iPhone or creating something higher quality with a Kodak PlayTouch or a Flip? Again, what batteries or chargers do you need? How many memory cards will you pack? And bring your own tripod if you need one.
You know that TV show "What not to Wear?" Keep that in mind as you pack for a conference. There are some practical considerations – the time of year, the weather and the geography. A sunny summer day at a ranch venue requires jeans and a hat whereas as a June day in a conference centre requires business casual attire including a shawl, light jacket or cardigan just in case the air conditioning's on full blast. Beyond the practical, try to figure out the style of the conference – social media conferences tend to be more casual (not sloppy) compared to hospitality shows, for example.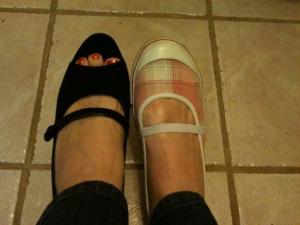 Separate from the clothes on your back, I implore you to pack comfy shoes. Flats, sandals or nice walking shoes are essential for you to keep on trucking around the conference. Wear runners if that works for you but please leave the smelly trail run sneakers at home for sake of those who have to sit next to you!
Take a look at at the speaker list – who do you already know? What blogs can you add to your RSS reader? Who should you follow on Twitter or fan on Facebook? If you haven't already, get reading and start connecting.
Study the conference schedule. Are there concurrent sessions? Make some decisions about what you'd like to attend before you arrive but be flexible enough to go anywhere on the day. Make your selections a blend of topics you already know and challenge yourself to learn something new.
Thanks for reading this far … the folks over at Social Media Camp are posting a companion blog with 7 more tips to help you enjoy the event. Carry on reading here.
What tips can you share to thrive at a conference?