The Digital Cleanse Day 10:
Pick a Cloud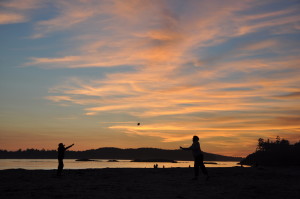 Cloud storage is an amazing invention! I love that I can access any of my files, any time from anywhere.  All I need is an Internet connection and a web browser (or a mobile app). I especially love that I can reliably work on the current version of my document no matter the hardware. Synchronized files are a joy. I also love that hardware failure no longer means a catastrophe. Yes, it's very sad when you shatter your phone but at least your data can be resurrected.
That said, I don't recommend my original ad hoc approach.  With accounts on Dropbox, Google Drive, iCloud and OneDrive, I fractured my cloud storage across several platforms. Partly, I have a mixed bagged because of the workflow preferences of the people and projects I've worked on. Maybe you can relate?
After a few years, it gets tricky to remember where to find the files you need. Nothing kills productivity like the frustration of searching for files across multiple platforms.  Its been a painful experience. I'm still reorganizing my files onto one cloud.
So, learn from my mistake and pick a cloud. Here are some of the available services:
* Rate packages noted were current in March 2016. Subject to change without notice.
I strongly recommend choosing a single cloud. Of course, if your client, ACME, works via Dropbox then you join them on Dropbox.  If you keep accounts on more than one cloud storage service, use that storage as a back-up location. For example, I keep a back-up of our family photos, one of my most treasured possessions, on two clouds, just in case.
More on the 30 day #digitalcleanse tomorrow. Hope to see you then!
(If you missed yesterday's installment, take a couple extra minutes to explore Curate Your Photos. For links to the complete Digital Cleanse series, click here.)