Engaged, Informative, Approachable
Known for her calm and organized approach, Angela Crocker shares well-researched topics in an understandable way. Angela's presentations draw on her training in learning design and education technology. She includes a variety of learning activities and numerous actionable take-aways.
A fan-favorite, Angela enjoys engaging with attendees before, during and after each event both in person and online. Undoubtedly, casual conversation will turn to her love of Star Wars or, maybe, her passion for fine art supplies. She consistently becomes a lively member of the event's community and works hard to make everyone she meets feel included, uplifted and content.
More about Angela Crocker
With more than 100 speaking engagements to date, Angela Crocker is a sought-after speaker. She's presented for a wide array of national and international organizations including Microsoft Canada, Social Media Camp, Mompreneur Canada, and more. Every presentation is updated and tailor-made for each audience to ensure they are hearing the latest best practices and relevant case studies.
A thought leader on online communities, digital decluttering, education technology, and content planning, Angela is an engaging speaker who aims to help individuals and businesses navigate the issues, challenges and joys of living a digital life. As the author of four books, including The Content Planner and Declutter Your Data, event organizers can be certain of Angela's integrity as a researcher and speaker.
Past presentations have been provided for Inspired Victoria, Pecha Kucha Coquitlam, eWomen Network, Business Card Social, WordCamp, WORD Vancouver, Simon Fraser University, and many more. Angela speaks to intimate groups and large groups with ease.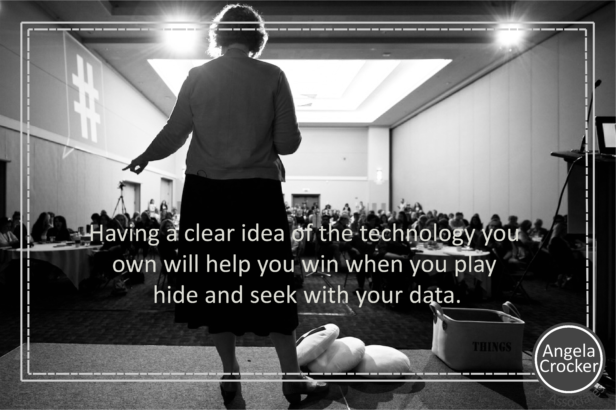 Topics
Angela Crocker's presentations range from 45 minute keynote addresses to half-day workshops and all sorts of other formats customized to suit the needs of event organizers. Often event organizers add a book signing to the program to give attendees an opportunity to interact with her one-on-one.
The Quest for Digital Happiness
The quest for digital happiness is about finding a personalized balance between digital and analog. It's about coming to terms with the digital assets and technologies that improve life without overwhelming it. That blend is very personal and often we are wooed by the promise of digital nirvana when we peek at what others are doing online. Your quest for digital happiness must be a personal journey but you don't have to travel alone.
The Digital Clutter Problem
(and What To Do About It)
Today, we all have digital DNA filled with an unwieldy amount of data. Photographs, social media accounts, blog posts, and old university essays fill mobile phones, tablets, hard drives, and the cloud. This results in the digital clutter problem, a largely invisible issue hidden inside sleek mobile phones and invisible data storage. Few individuals truly know what information they have available nor where to find it. Based on Angela's three year journey to embark on a digital cleanse, session attendees will learn the impacts of digital clutter and what to do about it.  Strategies to declutter data, organize information, and sort out accessibility combined with methods to keep the digital "paper tiger" under control will give attendees actionable steps to put into practice immediately.  It's time for everyone to take charge of their digital footprint. Angela can help.
Idea Lab
It's time to create! Join Angela Crocker, author of The Content Planner, in this interactive workshop to learn about the content planning process and focus in on generating content ideas you can use. Whether you work alone or with a team, you've got to make the most of limited content marketing time. Every piece you create needs to support your business.  In this session, you'll use the tools and materials provided to unleash your creativity. The session will give you time to think, brainstorm, explore and hone in on ideas specific to your service or product. With solid ideas in mind, you'll return to the office ready to create fresh content and publish your ideas on your website, blog, email newsletter, video channel or social networks.
Topic Roulette
These are just a sampling of the dozens of topics from Angela Crocker's past presentations. Let's talk about customized keynotes, workshops, and, other interactive events! Just send an email to start the conversation.
Bookings and Inquiries
If Angela Crocker sounds like a match for your upcoming event, the next step is a simple email of inquiry. Send us the details and Angela (or one of her very helpful Associates) will reply promptly.
More You'll Want to Know
Without a doubt, Angela Crocker is the consummate professional. She will arrive on time (air traffic control willing), prepared (without doubt) and ready to wow every audience. Her style isn't flashy or brash. She's energized in a calm, thoughtful way that holds audiences attention and creates an effective learning environment. Once on site, her needs are simple – water, a lavaliere mic, a slide clicker, and a warm welcome.
Sound like a match made in heaven? Angela's the speaker for you. (And remember Angela without the second "a" is angel.)