Yesterday, a tough memory popped up on my Facebook profile. I shared a personal note with my loving inner circle from my Mum's time in hospice four years ago. It's a sweet memory because it documents a special time, one of  my last happy times with my Mum. Yet, I had the instinct to delete it.
Facebook Made Me Cry
Every time I see this painful memory makes me cry. Ugly cry. The post in question doesn't make my eyes misty. It rips the scab off a part of my heart and I grieve all over again. From one point of view, this is a good thing. Crying, while distressing, is good for us. We release hormones that make us feel better. We're in touch with our emotions. And we appreciate the good things. And there are medical benefits, too.
To Delete or Not? That is the question.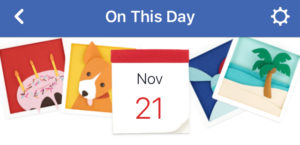 On the flipside, I've been tempted to save myself the upset. I could easily delete the post thus ensuring it won't pop up next year. But should I?  As I've explored my digital cleanse, I've wrestled with the question of whether or not to delete old posts that make me sad, make me mad, or otherwise make an emotional storm. Should we delete Facebook memories?
I haven't deleted any to date. I've been tempted for sure. Even with the tears, it strikes me that life isn't all sunshine and roses. The perfect life so many of us put online isn't the reality of our day to day lives, right? There's the sad days when we cry and the tough days when we're injured and the horrible days when we've been fired. Yet, the contrast between good and bad make us complete. Those challenging moments are a big part of what makes us human.
So, for now I keep my past intact just as I shared it in many posts over the last ten years or so. And on Nov 21 each year, I'll have a cry and think of my Mum with love.