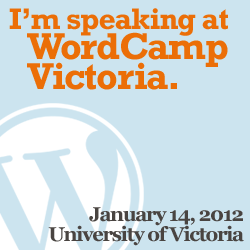 What  a treat to be invited to speak at WordCamp Victoria.  January 14th, 2012 will be my first WordCamp and I'm looking forward to geeking out with fellow WordPress enthusiasts at the University of Victoria. My pals Chris Burdge, Paul Holmes, Catherine Novak, Janis La Couvée, Raul Pacheco and George Plumley will be there along with a dozen other awesome experts. Will you be joining us?
My topic: Take Your BuddyPress Community from Blah to TA-DAH!
(Sorry about the rhyme. I'm trying to wean my alliteration habit and it's manifesting as rhymes these days.)
Level: Intermediate
Description: Creating your own online community requires more effort than simply installing the BuddyPress plug-in. In this session, I will share six strategies to nurture a vibrant BuddyPress community from my book The Complete Idiot's Guide to Creating a Social Network. From sparking great conversations to taking thing off-line, I'll show you how to take your BuddyPress community from blah to TA-DAH using examples from successfully established communities.
I'm always looking for existing BuddyPress communities to showcase in my teaching. Feel free to invite me to visit your community in the comments.